If you are a general education teacher, chances are that you have a wide array of students in your classroom. Gifted, special ed, RTI, 504 – you name it, a child in your class is in that subgroup. Educating these students can feel DAUNTING. How can I possibly reach all 25 students at their own, unique learning levels? What is this Workshop Model thing, and can it help me?!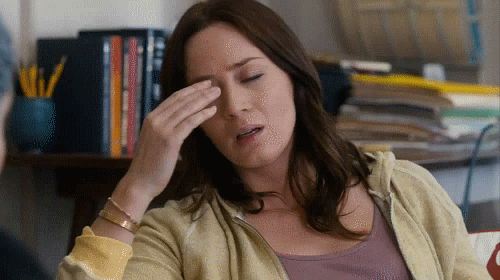 We feel you, girl.
Have No Fear. Workshop is Here!
It is possible to find that healthy balance between supporting your students and not going crazy from exhaustion. It's called Workshop Model, and it's amazing. What is Workshop Model, and how does it work? The Workshop Model has a lot of "inventors" and "creators" that have laid the groundwork for Workshop in a variety of arenas. The goal is simple: spend less time teaching whole-group, and spend more time teaching small-group.
In Workshop Model instruction, the design of the class usually follows this sequence:
(Psssst… there's a free download at the end of this blog post if you are a visual learner like me!)
Whole Group Mini-Lesson. Y'all, when I say mini, I mean mini. Research has shown that 12 minutes is the most time you should give to direct instruction during this section of class. When planning your lesson, choose a topic that fits your grade level standards, regardless of the skill level of students. This doesn't mean you're ignoring assessment results. You're laying the ground work for the day; what your students should be able to do by the end of class. Your Gifted students will learn quickly that the skill might be something they can already do, and they can help you with some expert tips!
Small Group Lessons and Independent Work. (Sometimes referred to as "centers", "stations", or "station rotation"). This is a time when students in your class are doing one of two things. They are either with you in a small group setting, or they are working on independent work based on the mini-lesson from this morning (and/or concepts and topics that have spiraled into your independent work – but that's a whole other blog post!).
Sharing. This looks different for each subject area, but the premise is the same in all classes. Students should be sharing something about the topic or concept they've spent the class on. In reading, this might be looking at a mentor text and sharing what they notice about author's craft. In writing, you might have students volunteer to share their writing from the day and get feedback from the class. In math, this time is a chance for students to show the variety of ways that they thought of to solve a problem. The best way I've ever had this explained to me is this: Shared Time is a time for students to apply what they've learned and start to bring the learning into the real-world.
Wrap-Up. This is a time for the whole group to wrap up the learning for the day and share any insights or tidbits they picked up during class. This can also be a time for formative assessments so you can plan for tomorrow's lesson.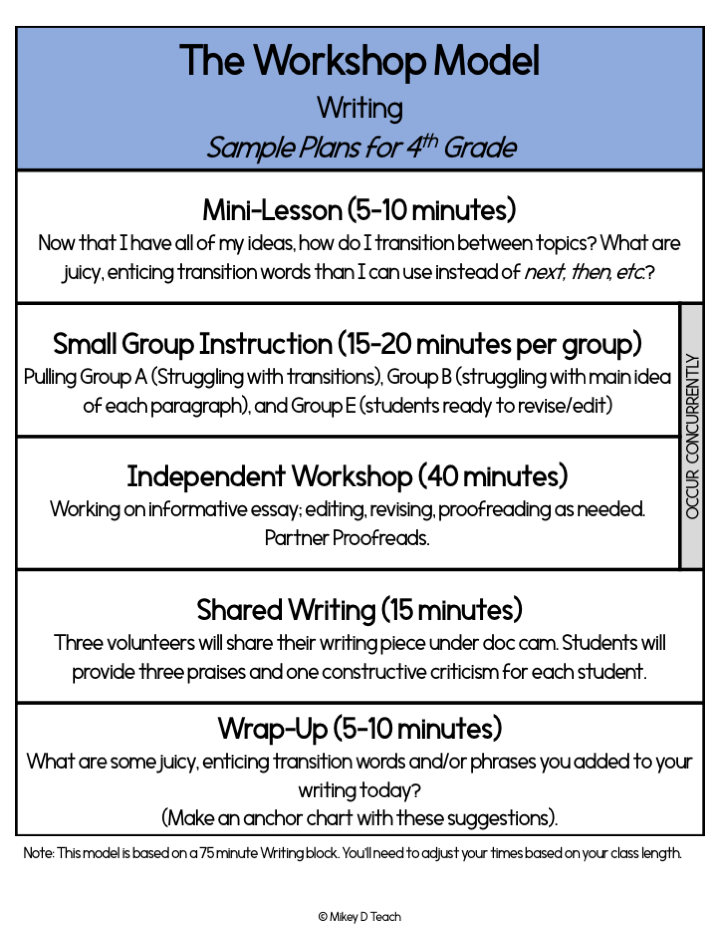 Your Gifted Students
Because this is a blog post that's aimed at helping general education teachers who have gifted learners in the inclusion setting, here are a few pointers for Workshop Model as it relates to this student population.
Gifted students' independent stations should look different than the rest of the students. Is this more work? I'm not gonna lie; potentially, yes. But once you start collecting resources and storing them together, you'll soon find that pulling resources in years to come is a breeze. I also hoard any enrichment activities I find, make a bunch of copies, and have them posted on an Enrichment Wall (I use THIS hanging chart to store them) for easy access. This becomes a pull-and-go resource for me and for the kids.
You won't always serve all gifted kids at once. A common misconception is that you have to pull all of your gifted kids, no matter what. This is not true, however, which gives you more flexibility in your grouping. Let me give you an example. Terry is one of my gifted students, and he is usually a very talented mathematician. We just got to Geometry, however, and he is struggling with these concepts – especially ones not directly related to numbers, like classifying shapes. If I kept him in my "high" grouping for this lesson (or series of lessons), I'd be doing him and his groupmates a disservice. Yes, technically, we need to "cluster" them to meet state regulations – but we also need to pull student groups using data and observations that we've collected. It's OK not to always pull your entire gifted crew at once!
Sometimes, you will have a cognitively gifted student who is excelling at a tremendous rate. When I have students like this (and I usually have at least one every year), they have mastered the entire set of grade level standards I have to teach before they get to my classroom. If your school does not offer grade acceleration (i.e., a 4th grade student goes to 5th grade ELA each day, but stays in 4th grade for all other subjects), you'll need to accelerate the student on your own. This sounds daunting, but it's really not. Find some activities at the next grade level that the student will be able to do with just a bit of instruction from you. This student is working by herself on a totally separate skill. We call this independent study, and it's a real thing with tons of research to back it up. Check in every once in a while to make sure the content isn't confusing, but otherwise, this student can work independently.
Gifted students with general education peers. There is a time and place for gifted kids and general education kids to be together and work together. Workshop, unless data warrants it, is not the time. Students should be playing games or doing partner work with "like-skilled" peers, meaning that student pairs should be as close to the same level as possible. It's tempting to place a gifted student with a struggling student, but there is a ton of research that tells us this is not best practice. It's detrimental to a gifted student's academic gains and social-emotional health when they are forced to work with someone who is not at their learning level. Save this pairing for non-academic time, like a Growth Mindset mini-lesson.
Of course, this is just a framework for the model, and your set-up might look very different. I've tried various versions of this model, and I think I've finally found the sweet spot that works for me and my students. Test it out, and don't be afraid to make changes or go against the grain when you see your students struggling with Workshop Model.
I have put together a group of documents to make this post a little more visual.